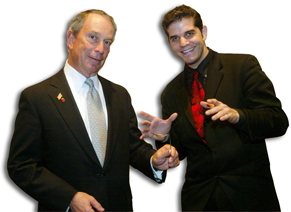 Bending a spoon in the mayor's hand
"Simply Incredible!"
(Mayor Michael R. Bloomberg, New York City -
To read the New York Post item, Click Here)
---
"The mind-boggling and reality-challenging qualities of The Mentalizer are beyond question, yet the show's full impact and what sets Ehud apart is the way he underpins his performance with a touching message full of light, love and hope - that we all truly have the power within ourselves to make positive, lasting changes to our precious world."
(David J. Peebler, strategic experience engineer, Pali Capital Inc., New York)
---

"Let's face it, we love entertainment, and Mentalist Ehud Segev , The Mentalizer, represents entertainment at its best. Of course, his presentation is simply magical, with breathtaking stunts that consistently elicit gasps and applause from the rapt audience, but perhaps the real story here is of a young, effusive, and highly charismatic performer, whose witty repertoire and engaging antics draw his audience closer and closer, to the point where the thrill of his success as a performer becomes more relevant than your pain as an audience member thoroughly incapable of fathoming his magical abilities."
(Dovi Scheiner , Editor, Kosher Spirit)
---

It was so interesting to watch the crowd as everyone gasped and exclaimed with awe! Your show was absolutely phenomenal and there is absolutely no way that stuff was just "magic". You are truly supernaturally gifted and Georgia State University really enjoyed the fantastic show.
(Ijeoma C.Uzochukwu , Spotlight Programs Board Panther Prowl Director, Georgia State University , Atlanta , GA)
---

"Very impressive! Thoroughly unbelievable! Amazing! There is certainly more to this than a magician illusions!!! No ordinary human could have made these predictions. AN EXTRAORDINARY PERFORMANCE!"
(Rabbi Rafe Konikov, South Hampton Jewish Center, NY)
---


"Ehud is supernatural. Our clients were extremely impressed. Very well done!"
(Michael Boyd, Merrill Lynch, Canada)
---

"I was a skeptic, now I believe. Truly AMAZING!"
(Todd Harrison , Minyanville , New York)
---

"He will blow your mind. I've seen him perform numerous times, and I am always awed by him. I think he's a great choice for any event - he turns nature upside down and inside out!"
(Alana Shultz, the Spanish Portuguese Synagogue, NY)
---

"Ehud - you are incredible! Your show completely undermined my sense of reality - I was in awe! Everyone loved it - we'd have you back anytime!
(Noelle Beach, Union College , Schenectady , NY)
---

"Your performance at the TIA holiday party was memorable. We're still talking about it in the office, and at home.
Thanks again for a wonderful experience."
(Marian Bossard, Toys Industry Association)
---
"Ehud possesses an unseen talent for someone so young of age. He will mesmerize and entertain you like no other can. His talent is real as well as his charm and persona, He will make your next social event unforgettable!"
(Goldie Stern, New York)
---

"At our recent Corporate Dinner benefit we hired Mentalist Ehud Segev.
I am pleased to inform you that our guests thought he was every impressive. His tricks left some of the guests in awe. Ehud was good at engaging guests that normally might not have even enjoyed this type of entertainment. The bending of the spoon as well as numerous card tricks were well received. Overall, Ehud was a hit!"
(Lauren Thayer, Museum of Natural Histor, Development Associate)
---

"I am working with Mentalist Ehud Segev , The Mentalizer, for a long time and he is one of the best performers I've seen. Ehud is very on target and he mesmerizes any audience with his unique show. He keeps me at the edge of my seat every time I watch him perform!"
(Allie Wilson, Eventus, Las Vegas)
---

"I thought I booked a magic show. I was wrong - this is far beyond any trick I've seen. This is for real! No explanation is available!"
(Mira Rotterman, Shamir Development, Israel)
---
"Wow! I was privileged to witness such talent live onstage. I still can't figure out how he does it. Its a definite must see. Ehud's show was amazing!"

(Broadway star Saycon Seng [Wicked], New York)
---
"I am not much of a believer and he made me BELIEVE!!! He is truly special, and holds within him something i have never witnessed before. I was blown away by his powers and his tricks. This is a show that CAN NOT be missed. Be prepared to sit with your mouth wide open in amazement for the whole show! He's truly incredible."
(Broadway star Brian M. Golub [Naked Boys Singing], New York, NY)
---
"It was a real pleasure to have you in Fayetteville for the Big Brothers/Big Sisters party. Thank you for making our event an enjoyable evening for our most important donors. I'll be in touch next time I need entertainment or when I come to NYC. Thanks again!!"
(Aaron J. Osborne, Fayetteville, Arkansas)
---
"Everyone listen carefully! I just finished watching an actual spoon made out of metal break and twist to the floor without him even using a finger! If you think this is like any other magic show you're wrong! You need to come and see for yourself and I guarantee you it will change your life!"
(Bobby Shneider, Deal, New Jersey)
---
"The people were totally stunned. I have no doubts on what he does and he has a super god gift. SIMPLY UNBELIEVABLE AND OUTSTANDING!"
(Karanbir Singh, Delhi Gymkhana Club, India)
---
"I know that you don't usually work in such a small venue, but I am grateful that you choose to attend my lunch. You are amazing!! Even my most skeptical of guests are dumbfounded. You turned my ordinary birthday lunch into something extraordinary."
(Michelle Berger, Livingston, NJ)
---
"A good blend of comedy, surprises and amazement"
(Rabbi Phil Sherman, The Hebrew Institute of White Plains, NY)
---
"Besides being unbelievable eye-candy <wink>, Ehud is a fantastic entertainer and conducts a spectacular show. I have NO idea how he does the amazing things that he does, but I thoroughly enjoyed his performance with child-like awe. Thank you, thank you, thank you. Cheers! "
(Remi Marault, New York, NY)
---
"Ehud is a mentalist. He knows what you think, even before you do. It's unbelievable!
(Ariel Taub, Bronx , New York)
---
"Ehud was not only charming and entertaining but was completely intriguing and compelling"
(Liora Zack Rosenblum, Riverdale , New York)
---
"The Mentalizer Show is definitely the best show in the United States .. I never knew what to expect when my friend told me to book him, but within 1 minute this guy was inside everybody's mind and believe it or not, they didn't really want to let him out!!!"
(Lillian Vostis, Miami , Florida)
---
The show was unbelievable. I have seen many shows, but I have never seen anything like this in my life. He made my son's party a success. All his friends were so fascinated. Thank you so much. We enjoyed it immensely, I highly recommend this show. It's like the best show we ever, ever saw. He made the party. Thank You!
(Jody Cohen, Brooklyn, New York)
---
"The Mentalizer throws a great party and is a dangerous mind reader! Lot 's of fun!"
(Chanie, S. Brooklyn, NY)
---
"Better then anyone can expect! It's the supernatural right in front of my very own eyes!"
(Robin Green field, Manhattan , NY)
---
"As amazing as it gets, Ehud is fun, funny and absolutely fabulous! I recommend again and again and again..."
(Sigal Ben Menashe, Manhattan , NY)
WANT MORE? Read some of the letters the Mentalist Ehud Segev received.