Corporate event mentalist for your corporate events. Ehud performes in New York City, Las Vegas, Los Angeles, Canada, Israel and more!
The mentalism of Mentalist Ehud Segev is magic! Mentalist for a party or other events, he will leave you speechless! Read More in this website!
How to mind read?

EXPERIENCE SOMETHING YOU'VE NEVER SEEN BEFORE:




Mentalist and mindreader Mentalist Ehud Segev performing for Pnina Rosenblum, Moshe Datz & Sarai Givaty in the hit TV show "The Successor" in Israel

Mentalist Ehud Segev from NBC phenomenon performs for millions of viewers in Israel, in the most extraordinary tv series that Israel saw "Phenomenon" with Uri Geller. Segev influences the minds of three Israeli celebrities: Moshe Datz, Penina Rosenblum and Sarai Givaty, in this dazzling performance. Uri Geller loves him, and he makes it to the final show where he wins second place. Just like the American version with Criss Angel and Uri Geller.

GO BACK TO

MEDIA

AND CHOOSE ANOTHER VIDEO CLIP ... CLICK HERE!

Mentalist Ehud Segev is not the corporate entertainer you're looking for?

ABOUT THE MENTALIST | THE MENTALIST WEBSITE | MENTALIST TESTIMONIALSMENTALIST LETTERS | MENTALISM NEWS | MENTALIST EVENTS |
THE MENTALIST IN THE MEDIA | BOOKING A MENTALIST | CONTACT THE MENTALIST

Mentalist Ehud Segev
New Website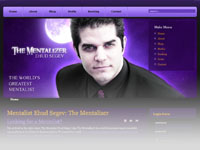 Mentalist Ehud Segev has launched a new website at mentalizer.com.
Surf there now to get the most up-to-date news! Thanks!
Become a fan of Mentalist Ehud Segev
on FACEBOOK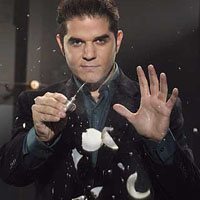 Why not join The Mentalist Mentalizer's FACEBOOK page and get ALL the updates, videos, pictures and more???
To become a member simply look for THE MENTALIZER page on FACEBOOK or click here!